AS WE PREPARE FOR THE CELEBRATION OF ADVENT…..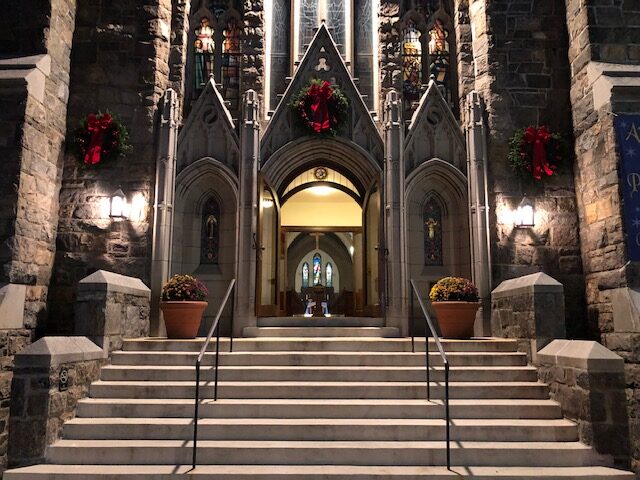 Brothers and sisters in Christ, as we prepare for a wonderful celebration of Advent and welcome into our hearts and minds the One who is "to come", the one who will bring Joy to the World; we thank God for the countless blessings we have received this year in our lives and the life and ministry of St. Matthew's.
In the midst of all that we have been challenged with, we have bowed our heads in humble adoration seeking God's presence, power, miracles, love, forgiveness, compassion, protection and guidance, to say the least.
As your pastor, I am confident that the presence of God has been active and present throughout this year in your life. The presence of God has truly been witnessed and felt in with and among us as we have collectively supported one another during this time.  With the help of God, we have truly been present for each other and as we gather in person and virtually our love for one another continues to keep us connected both physically and spiritually.
We give thanks to God the Father Almighty for creating heaven and earth. We give thanks to God for sending us his only Son, our Lord and we are grateful to God for providing us with the Holy Spirit to lead us and guide us along our journey of faith in this troubled world we live in.
O Come, O Come our Emmanuel, for you will ransom captive all of us your people. We look up to you as we adorn your Holy Space where you welcome us with open arms. We actively listen to your Words as we gather as one around your table where we are nurtured and we go out into the world beginning on Mamaroneck Avenue, sharing the "Good News" with each other and uplifting each other to share the light of the world with those we come in contact with.
You brothers and sisters in Christ have been called to be a beacon of light in this world. Let the Joy to the World that God has sent us to welcome, love, listen and adore and follow guide our journey as we bow our heads to witness the amazing gift all of us will receive in the name of Jesus.
Let us prepare the way of the Lord, let us Go Tell It on the Mountain, let us go forth as Good Christians to Rejoice in that Silent Night we all anticipate, and as Martin Luther wrote, "From heaven above to earth I come, to bear good news to every home; Glad tidings of great joy I bring, Whereof I now will say and sing. Glory to God in highest heaven, Who unto man his Son hath given, While angels sing with pious mirth a glad new year to all the earth." Blessed Advent, Merry Christmas, and a Happy, Happy New Year. Enjoy the pictures.
Yours in Christ,
Pastor Jonathan