"I will sing to the Lord, for he has triumphed gloriously!"-Exodus 15:1
Music plays an important supportive role in the life and liturgy of the church. It adds an emotional depth, power and beauty to the proclamation of the Gospel of Jesus Christ.
Worship
St. Matthew's is committed to our own great Lutheran musical tradition, of which J.S. Bach (1685 – 1750) is the consummation.But we are also committed to the great sacred musical tradition of the whole church — both West and East. And we are open to the new, fresh and vital musical expressions of the church's faith in our own time. We hope that you are moved and brought deeper into the mystery of Christ by the music at St. Matthew's.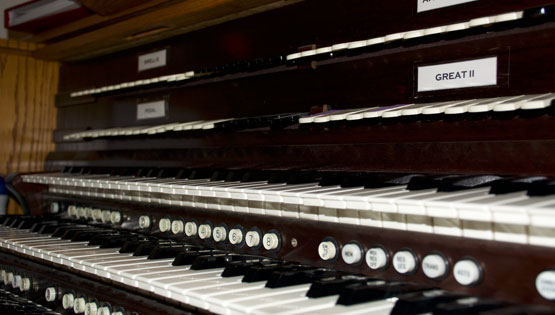 St. Matthew's is committed to the beautiful and rich historical Lutheran liturgical tradition while embracing some of the contemporary worship forms.
St. Matthew's has a long tradition of musical excellence. The church has a 39 rank Shantz pipe organ and a volunteer choir with professional section leaders. We are committed to our rich Lutheran musical heritage, as well as the whole musical tradition of the Western Church. But we are also open to the many beautiful new and contemporary musical expressions of the ancient faith — in both the hymns we sing and the choral anthems. You will see that we incorporate a balance of the old and the new.